As my husband and I start week 6, I wanted to share what is happening here and back at the office.
Bothe Associates, who manufactures all the needles, was designated "essential" because we make parts for medical devices, valves for municipal water plants. We were so happy to be able to be nimble and make ventilator parts. You can see details at www.bothe.com.
I am really proud of the Bothe team who responded to all possible efforts to keep people safe. Disinfecting, social distancing and working in groupings to reduce the number of people in the building were just a few of the things that were done and continue now.
When the first Wisconsin Safer at Home edict came Signature immediately stopped filling orders and Jen went home to work remotely to try and answer questions and let the world know what was happening. The response to the news that we couldn't ship was heartwarming. So many customers not only were understanding, but wished us well.
Last week the Governor loosened up the restrictions on businesses who were mailing products out so we decided Signature could start up. I felt the procedures Bothe had in place protected the Signature team, so shipping is back up and running.
I only wish I could be there. I know so many people are suffering medically or financially, but many of us are at home doing things we never have before.
Hair and lack of hair cuts are a big problem. Most of us at home look terrible. My husband, Kent, has always had a beard and he is starting on the way to looking like ZZ Top. The problem is eating through a mustache. So we went outside and I cut the mustache. I know he was worried, but I kept saying "it will grow back if I mess up". This is certainly a first for me, but I think it came out pretty well.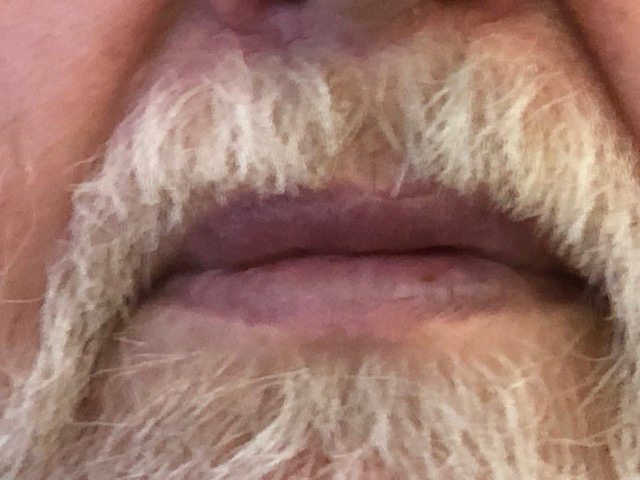 The biggest knitting "first" requires a confession. I have knit for decades and made adult Aran sweaters for others, children's sweaters, and hundreds of baby sweaters. I love baby/toddler sweaters because I am easily bored and these work up quickly.
In my cleaning frenzy I found a big batch of Rowen SoftYak and decided to make a sweater for myself-the first time ever. I found the pattern named Mullion by Sarah Hatton on Ravelry. I am trudging through it but am reminded why adult size sweaters are not my favorite. I did make one change to make the stockinette part of the pieces more interesting. I did a repeating Bamboo stitch.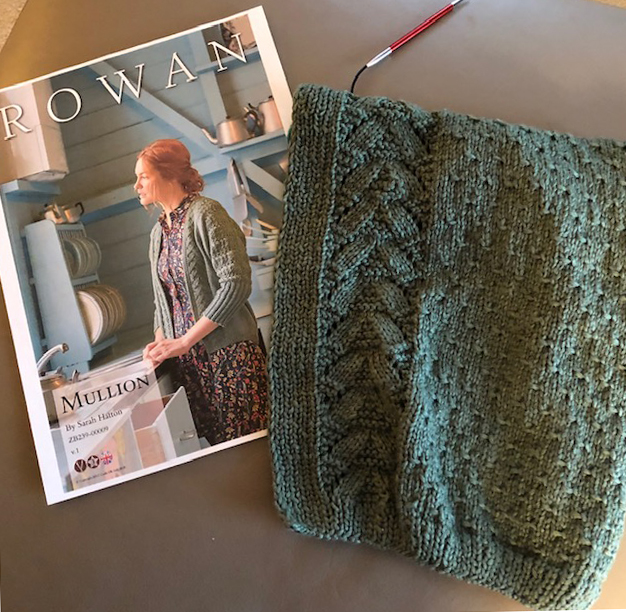 I have seen online that so many staying home are doing cleaning and reorganizing so I tackled our basement. I know our kids will be amazed when they see what has happened. I have culled a LOT of yarn which will go to Nifty Thrifty, a resale shop that supports Shalom Center (shalomcenter.org ) that helps so many homeless people here in Kenosha.
I bet many cleaners have said " I forgot I had that" or "what the heck is this?". I have one of those and hope one of you can tell me what it is. It is very well made, looks new and probably would do a great job if only I knew what that job was!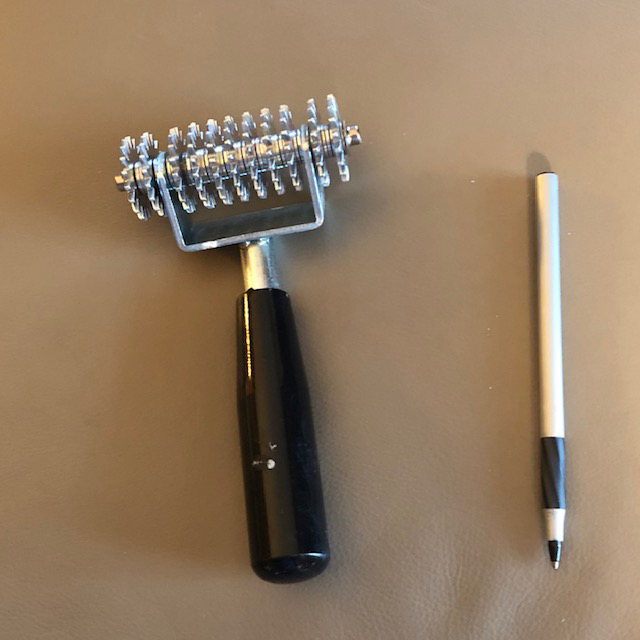 I know it is hard for us to try and look towards a more normal time-especially hard for pessimists like me but spring is here. We went out for a drive and saw Spring at Kemper Center here in Kenosha. The Scilla are always the harbinger of the end of the hard winters we have here and they are doing their job even this year.